Introduction
After a break of so many years, Budapest has a new private puppet theatre.
Having started up as a migrant theatre, and spent revolutionary years acting in the founders' own home and then a theatre tent, Figurina finally embarked on the second 25 years of its existence in its own, permanent theatre building. The venue is a converted garage-workshop right close to Moszkva tér. This is a space we transformed after our own taste and with our own hands and opened to audiences in December 2008.
The opportunity to offer regular performances on a permanent basis in Budapest is a significant event not only for Figurina. It is an act which points beyond itself as regards the history of private puppet acting in this country, after such activity was completely non-existent during the previous regime. We plan to host visiting performances by other Hungarian, as well as foreign puppet theatres. Visits and donations are welcome at Figurina's VARAGE workshop!
Tickets and reservations at Figurina Puppet Theatre
In the new season we offer a selection of our best plays. The programme changes each month, with performances starting at 11:00 and 17:00 hours every Saturday, for children over 3, for adults and occasionally for adults only.
If you wish to be informed about the latest news and events, the best idea is to send an e-mail to This email address is being protected from spambots. You need JavaScript enabled to view it. and ask for a monthly newsletter. Programmes and events will be posted in the Performances section of this website, as well as in the regular printed programme magazines.
Tickets are sold at the venue, before the start of the performance. However, because the number of seats is limited, please book in advance, so you can be sure to get a place. You can book by e-mail (This email address is being protected from spambots. You need JavaScript enabled to view it.) or by text message (06-20-530-15-95). You can also book your place for a coming performance at the end of the show you visited. Please include in your booking the date and time of the performance you wish to see and the number of viewers, as well as a name by which to identify you on arrival. One booking should be for no more than 5 persons. For groups numbering more than ten we are happy to organise a special performance. If you wish to modify or cancel your previous booking, please, do that by the same written means, at your earliest possible convenience. Naturally, viewers who had not booked are also welcome to occupy free seats.
| | | |
| --- | --- | --- |
| | Ticket prices: | Season pass for 6 shows: |
| 1-2 persons | HUF 1500 per person | HUF 5000 per person |
| family ticket for three people | HUF 4000 | HUF 12,000 |
| family ticket for four people | HUF 5000 | HUF 15,000 |
| family ticket for five people | HUF 6000 | HUF 18,000 |
| family ticket for six people | HUF 7000 | HUF 21,000 |
Find Figurina Puppet Theatre at: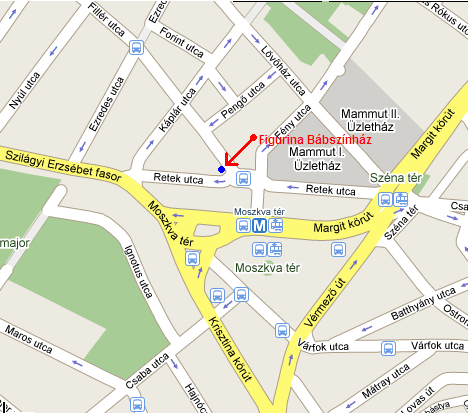 BUDAPEST, 2nd district, No. 17 RETEK utca, not far from Moszkva tér.
Attention! Entrance is from Fillér utca. Look out for the sign 'VARAGE Műhely'
Parking (free at week-ends) is possible in the side streets of Fillér utca, in Retek utca, Fény utca and in the underground car park of Mammut shopping mall.
Welcome to Figurina Puppet Theatre!